Blockchain in Education Lifelong Learning
It is hard to imagine that a little more than a decade has passed since Satoshi Nakamoto published a concept paper in 2008 regarding the development of a digital currency that lives only on the internet and not backed by the government called Bitcoin cryptocurrency. In 2013, Vitalik Buterin proposed a similar blockchain technology but which included the concept of smart contracts that executes code to do a variety of things including the creation of cryptocurrencies. This spawned the birth of numerous other cryptocurrencies in addition to bitcoin.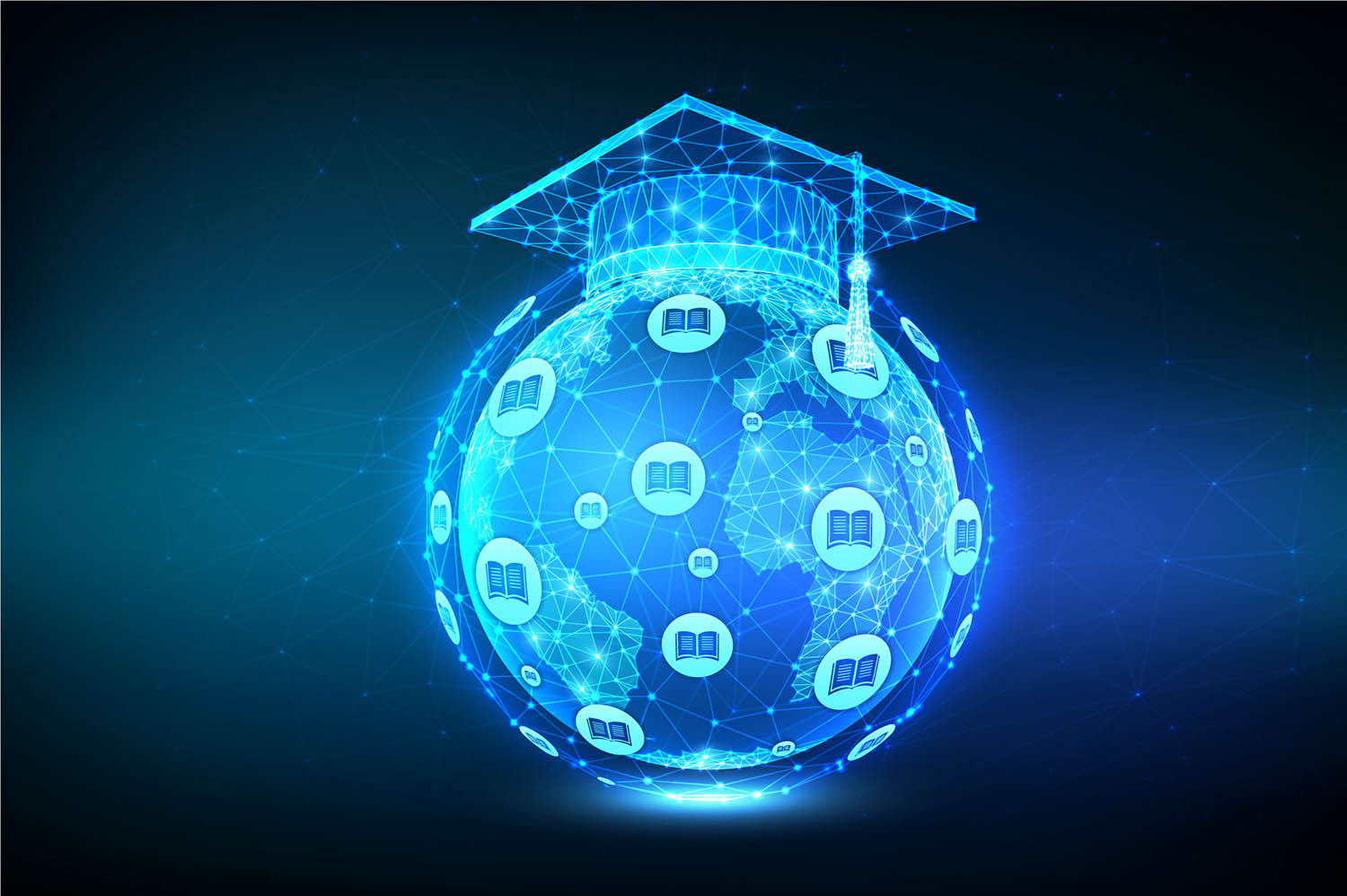 The core technology behind this is called blockchain.  The internet provided the value of being able to transmit information instantly, which was not possible before.  The Blockchain technology provides the value to transmit value instantly, which was currently not possible before the bitcoin cryptocurrency.  Cryptocurrency is just one example of the potential of this technology. Tech experts everywhere are touting the power of this new technology referring to it as the 4th industrial revolution ushering in a new internet or Web 3.0.   While much of the discussion has been about the financial industry because blockchain was birthed as a result of the collapse of the financial market in 2008, other industries, to include education have already embraced this technology, which is expected to be disruptive with respect to how we view life-long learning.
Blockchain as New Infrastructure for the Knowledge Economy
Education is the new gold standard in the global market.  Blockchain technology is here and is already disrupting educational systems internationally. The future of work demands that school-age students become college and career ready and adults continuously pursue opportunities to build their skillset repertoire as lifelong learners. The key to economic growth as a performance indicator, requires promoting strategic education, both formal and informal at every level of the economy.  Investopedia defines Intellectual capital as the value of a company or organization's employee knowledge, skills, business training or any proprietary information that may provide the company with a competitive advantage. The Knowledge or Learning Economy is based on intellectual capital.
Adult education, which includes any form of learning adults engage in from compulsory k-12 schooling, colleges and universities, Massive Open Online Course, (MOOCs),like Coursera, Udemy, and EdX,  work-based professional development, or any other informal learning experiences.
As competency-based education increases, there is a going to be an increased demand for a reliable means as well as consistent means to capture a much broader range of learning and knowledge-building activities, shifting from a reliance upon solely formal education. It appears that this trend, if aligned and linked to the emerging technologies of blockchain, dovetails nicely with a much-needed change in valuing lifelong learning and education management. 
Blockchain has the ability to organize lifelong learning and potentially reduce academic fraud, verify employee skills, report and enforce compliance standard and requirements.  The entire process of education as a value chain from teacher to student, testers, accreditors and validators, compliance officers to employers can be impacted by this disruptive technology. This is especially true sense we are shifting from an economy that was industrial-based, to one that is digital-based.
Blockchain and Trends in Education
The idea of lifelong learning envisions citizens provided with learning opportunities at all ages and in numerous contexts. Technology as an independent problem-solving strategy will not be successful without strategic changes to organizations and employees. Blockchain technology has already begun to impact curation of learning from formal and informal channels. Traditional educational institutions (schools, colleges and universities)  are exploring how to use blockchain technologies to improve administrative and records management functionality, and employers are adding the need to document and understand the skillsets of its workforce and will be focused on assessing competency-based skill assessment as part of the core human resource processes of onboarding, professional development,  compliance, and retention.
Among the most exciting possibilities for blockchain usage in education, from the fastest implementation to the most revolutionary  include payment for tuition using cryptocurrency, certification of diplomas and degrees, E-portfolios ( whole records of lifelong learning) and student permanent records (transcripts, transfer records school lunch, attendance, standardized testing scores), and lifelong learning passports which include not only official certification but documentation of education experiences and skills learned outside of formal pathways using badges- issuing tokens for achievement viewing knowledge as currency.
Blockchain Lifelong Learning Real Projects Today
Popular examples of blockchain usage in education include, University of Nicosia in Cyprus, King's College in New York, accept cryptocurrency for tuition payment.  MIT's Media Lab development of "Blockcerts" to enable digital self-sovereignty over their student's records.  These are older examples however of some initial blockchain education projects. To get an understanding of more recent projects I reached out to Vottun, an organization that develops blockchain credentials and certification solutions for educators and enterprises.  I wanted to know their thoughts regarding education and blockchain initiatives, and to learn about current real use cases the company was involved in.  We also discussed the futuristic potential of the blockchain technology including convergence with Artificial Intelligence, (AI), to improve adult continuing education.   Vottun is currently working with the City of Barcelona IT Academy using blockchain to provide certificates to students as a part of a government initiative, Naturgy, a gas utility company using the platform to meet compliance requirements, and Blockchain Institute & Technology using the technology to issue certificates to its students.
The City of Barcelona Economic Development Agency, created Barcelona Activia, an organization responsible for providing supports to its citizenry especially entrepreneurs.  City government selected Vottun, a blockchain technology start-up company, as its credentialing platform for its IT Academy, offering courses to improve technical and business skills.  These courses are loaded to the blockchain as you would normally do with any learning management system. As students' complete courses they receive micro-credentials in the form of digital badges or certificates. 
These digital credentials are stored on the blockchain and accessible by the students via a Universal Wallet provided to each student as a part of the Vottun platform.  Students are able to share these credentials with potential employers or recruiters. The shared credentials are verified against the blockchain to certify its authenticity each time they are viewed.  The platform uses cryptography and multi-signature algorithms to verify the authenticity of the certificates. The verification process allows employers to trust that the credential is authentic. This is radically different from the most common experience of an employer either calling the institution to verify course completion, or a student going to the registrar's office to initiate sharing of his or her credentials.   Blockchain technology is able to streamlines the process of credentialing and records management by empowering lifelong learner to be responsible for the learning.
Naturgy, is a $20 billion transnational natural gas and utilities company based in Spain with over 10,000,000 energy clients worldwide and over 18,000 employees. The energy industry is highly regulated.  All employees have to be certified by the appropriate certifying agency based on the role within the organization. One of the certifying agencies is Sedigas, that uses blockchain technology as its record management system.  Like most companies, Naturgy required all employees to wear badges containing certification information. Both Naturgy and Sedigas are a part of the Vottun blockchain ecosystem. This allows communication between the organizations where one organization is able to publish compliance results for employees on the blockchain and the other organization is able to verify that the employee has met all compliance requirements.  Furthermore, after the verification of the compliance requirements the second organization is able to issue its own credentials on the same blockchain platform in the form of digital identification.
The employee receives both the compliance credentials and the digital identification in his/her universal wallet from the different organization.  He is able to use these credentials to prove certification and to provide employment status in the organization. Credentials can be given expiration periods as well, where when expired, the smart contracts will invalidate the certification automatically and provide the necessary notifications.  Normally, this is a very complicated and error prone system that requires reconciliation between multiple participants and sometime manual validation of compliance requirements. However, because the blockchain provides a single source of truth it takes only seconds instead of hours or days, to do full verification of these credentials as well as creation of related credentials.
Colleges and universities have traditionally relied upon transcripts and degrees to express academic achievement.  What will make blockchain more attractive to educational instructions is how blockchain will make the business operation of transcript production easier and protected because blockchains will make transcripts tamper-proof and readily accessible.  Additional benefits include the convenience afforded prospective employers, graduate schools and others that need to verify credentials, and puts the ownership of the credentials in the hands of individuals versus institutions. Ultimately, skills and compliance traceability, or certificate management, make blockchain  attractive to any industryas a value add.
The Blockchain Institute & Technology (BIT), a leader in teaching blockchain technologies, is an education institution that also use this technology for education credentials.  As one of the experts in blockchain technology BIT understands the capabilities of blockchain and teaches this to their students international.  They use BlockEducate a "Blockchain- as- a -Service," (BAAS) platform, for this.  BlockEducate is Vottun's online SaaS project.  Educators are able to easily publish certificates for students that complete their coursework on the blockchain.  Students are able to use these credentials to prove their learning on the subject matter. BIT uses BlockEducate as a critical component of its learning management system.
The criminal justice system is exploring the use of blockchain technologies in the areas of supply chain management as it relates to tracking evidence or even AI suggested sentencing verification.. Noticeably absent is its use in education worthy of discussion because governments- local, state and federal, have a legislative responsibility to educate those under its carceral care.  Research has shown that correctional education is critical to release preparation as a means to reduce the chances of individuals leaving confinement only to return called recidivism; as a public safety matter.  However, the way education is delivered and the manner in which educational information is collected and reported in the criminal justice system is woefully obsolete.
Education data is generated pre-incarceration as part of the sentencing process, during incarceration as part of programming, and post-incarceration as persons coming continue with personal growth and development by seeking community-based learning opportunities.  Lifelong learning extends to pre, post, during incarceration periods for individuals that have been through the correctional system.  Evan Sixtin believes 
"Despite the speed in which blockchain technology is being adopted in other areas of the social arena, there remains one government system in every society in every country in the world which is still desperately in need of an upgrade but moving at a snail's pace or sometimes standing completely still…, the combination of AI algorithm technology along with a blockchain distributed ledger to replace outdated criminal justice systems globally could have the greatest compassionate effect on human suffering among any digitized social structure to date and alleviate abominable injustices that exist in prisons throughout the world."
Vottun is working on blockchain solutions that could help solve some of these problems.
Blockchain with Cognitive Intelligence
Blockchain, by itself, offers a variety of advantages to lifelong learning, education, and compliance that currently does not exist.  Research is currently underway exploring the possibilities of integrating blockchain technology with artificial intelligence (AI) and machine learning.  Google, for example, is using its BigQuery,  a tool exploring how to solve the problem of storing and querying massive datasets , performing  analytics on the blockchain. Vottun, creator of BlockEducate is also developing an analytical tool using its application program interface (APIs), as building blocks for a software application that makes people analytics accessible via blockchain.
People analytics is rapidly becoming an indispensable competency for today's human resource professionals expected to provide smarter, more strategic and informed information regarding the workforce, so management can make better decisions.  The ability to conduct data mining of human resource databases on a blockchain platform will soon make descriptive, prescriptive and predictive analytics expected business practice which is why the Society for Human Resource Management (SHRM) introduced a new professional development program in 2018  called SHRM People Analytics Specialty Credential. 
Imagine being able to identify employees with specific skill sets throughout the organization.  What if you could potentially, understand with clarity and depth who is leaving your organization and why to improve retention? What kinds of potential employees should we begin to look for based on future work demands?   These are all questions Vottun intends to be able to provide tools to answer. All of these technologies, although in early stages of development, offers a glimpse into where the market and technology are heading and some possible future use cases.
Adult Continuing Education, (ACE),  is where the reputation, learning and trust economies collide. The ability for multiple stakeholders to share information using blockchain technology, ushers in a new era for the management of educational records that not only helps to define who a person is academically, but also what a person is skilled and certified to do in real-time, revolutionizing professional development. In the future it's quite likely that with the deployment of blockchain technologies many of the challenges we face related to education will dissipate. 
As the education industry continues to embrace this technology, it affords the opportunity to build a learning ecosystem that serves as a stimulus for both economic mobility at the micro or individual level, and growth at the macro or global level.   Innovative Blockchain EdTech companies are positioned to become thought leaders and provide solutions that validates that knowledge is the most important and consistent form of currency.  The future is here!