Revolutionizing Food Traceability: A Multi-Chain Blockchain Platform for Edenfresh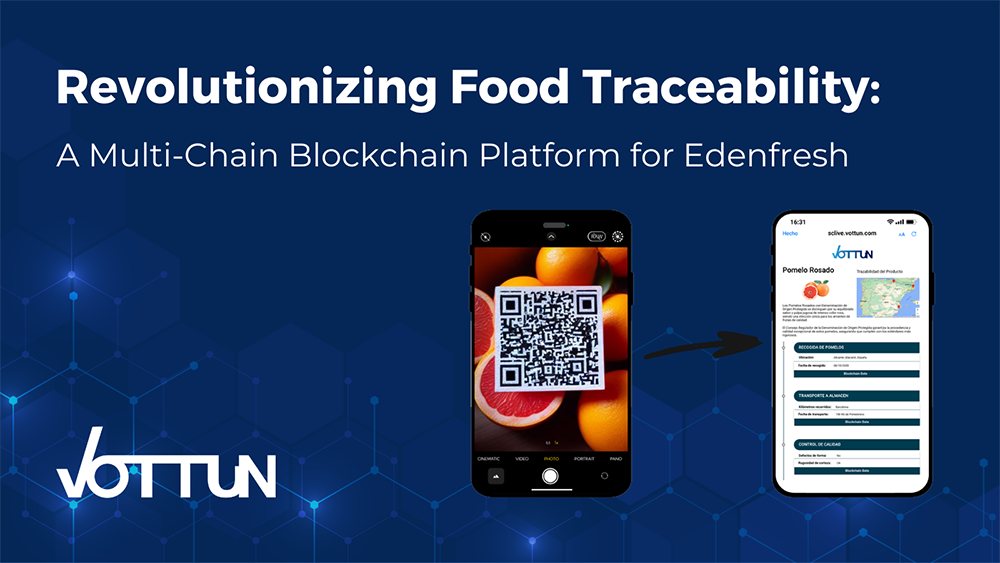 In a groundbreaking venture with Edenfresh, we have developed a cutting-edge Multi-Chain Blockchain platform aimed at enhancing the traceability of perishable food and products. This innovative project tackles key challenges in the horticultural sector, providing a solution that leverages blockchain technology to ensure transparency, efficiency, and trust throughout the supply chain.
The project addresses the inefficiencies and challenges in the current horticultural supply chain, where traditional transactional mechanisms lack coherence, efficiency, and transparency. Faced with the complexity of maintaining consistency among various stakeholders, our goal was to streamline processes, eliminate fraud, and reduce costs.
To address the challenges posed, we have implemented the TRACE platform, a solution developed by Vottun that integrates the traceability of perishable goods and products in a comprehensive manner.
The adaptation of this platform for the specific case of Edenfresh involves the creation of real-time supply chain flows for key products such as melon, grapefruit, orange, pomegranate and broccoli. This customisation allows us to comprehensively trace the entire life cycle of these products, ensuring accurate verification of their origin in real time.
The integration of the TRACE platform has solved the following challenges for us:
Food Traceability

: TRACE has enabled accurate traceability of food products, ensuring visibility at every stage of the supply chain. This capability has been essential to strengthen the reliability and safety of Edenfresh's agricultural products.

Data Security and Transparency:

The use of TRACE has enabled the establishment of a secure and unalterable record of all relevant data in the supply chain of food products. This improved data security ensures the integrity of the information throughout the project lifecycle.

Detailed Reports on the Origin and Lifetime of Products

: The traceability layer provided by TRACE has generated detailed reports as each phase of the project was completed, giving a complete picture to both end users and the various stakeholders involved in the process.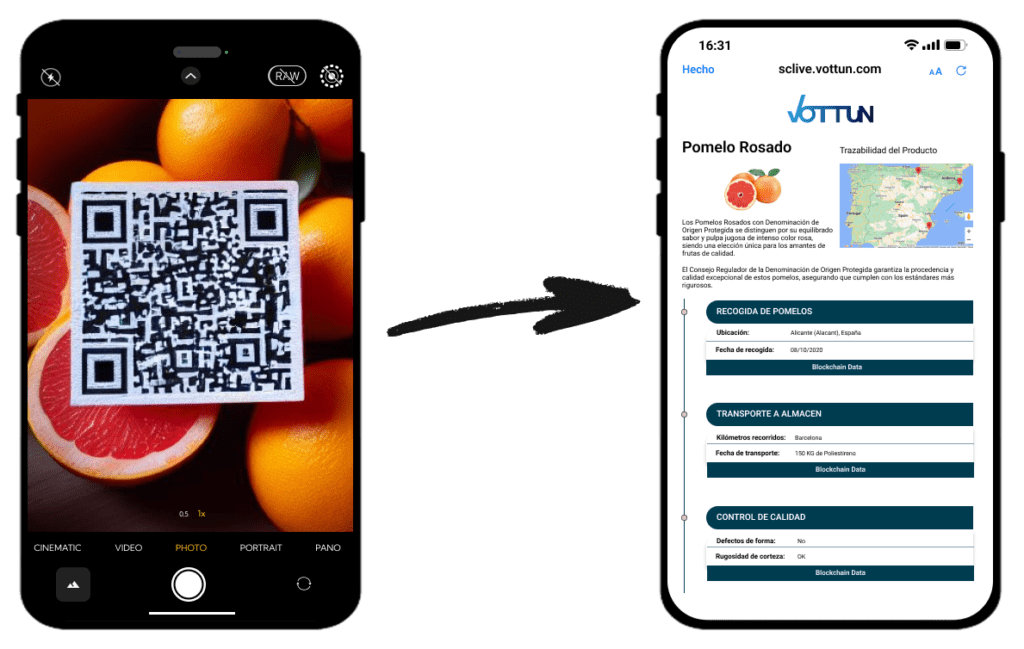 Results: Benefits and Impact:
The impact of this project extends beyond technological advancements, leading to tangible benefits and transformative effects:
Achievements:
The Design of Multi-Chain Traceability Platform for tracing the origin and quality of food products using blockchain technology.

The Successful execution of a pilot program in collaboration with EDENFRESH, a consortium of eight major fruit importers in Spain.
Impact on Community:
Food Security: Leveraging blockchain for transparent food aid programs, ensuring verifiable and accessible records, particularly vital in times of crisis.

Food Integrity: Enhancing reliability in food supply chains by swiftly identifying and linking outbreaks back to specific sources, reducing food fraud.
VOTTUN's Multi-Chain Blockchain platform not only represents a technological milestone but also holds the promise of a more just, safe, and resource-efficient society. By revolutionizing the horticultural sector, the technology offers a comprehensive solution to improve food traceability, safety, and integrity, addressing challenges on a global scale. The impact goes beyond direct employment, fostering a fairer society and contributing to a safer and more sustainable future.
We extend our sincere gratitude to Red.es for their invaluable support in the development of our project, VOTTUN's Multi-Chain Blockchain. The 2020 call for aid in technological development, within the framework of the strategic action for Digital Economy and Society, has been instrumental in bringing our initiative in the horticultural sector to fruition. Red.es' financial support and trust have been key drivers in achieving significant milestones in technology, food safety, and sustainability. We appreciate this collaboration that has paved the way for a more innovative and promising future.